Today would've been your 69th birthday. I hope you're celebrating up there with John Lennon, Brian Epstein, Linda McCartney, Maureen Cox, Stu Sutcliffe, Roy Orbison, Conor Clapton, to name a few.
George was introduced to John Lennon by Paul McCartney in 1958 when he was 15. George and Paul both attended the Liverpool Institute. John's band, The Quarrymen needed a bass player but John did not approve of George at first because he thought George was too young. When George played "Raunchy" on top of a double decker bus in Liverpool, John was impressed and asked him to join the band.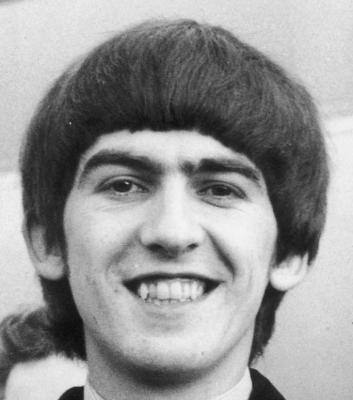 George met Pattie Boyd, a model, during the filming of A Hard Day's Night in 1964. He asked her to marry him on their first meeting. They eventually married 2 years later. Pattie said George admitted writing "Something" for her but he claims he had no one in mind when he wrote the song. The original lyrics were "Something in the way he moves." George was into the studies of Krishna consciousness but he ended up changing the lyrics because he did not want to be perceived as a "poof". Their marriage lasted 8 years. John Lennon and Mick Jagger were also attracted to Pattie. Eric Clapton, George's close friend was madly in love with her. He wrote "Layla" and "Wonderful Tonight" for Pattie. She left George for Eric because George neglected her and was obsessed with meditation at the time. George asked Eric if he could have Eric's girlfriend, Jenny, who also happens to be Pattie's sister. George actually approved of Pattie and Eric's relationship, commenting that he would rather have her be with him than some dope. Pattie and Eric married but divorced after 9 years as a result of Eric's addiction to heroin and alcohol. Pattie was also unable to conceive.
I was at the Stonehenge 2 years ago!
George and Pattie in "A Hard Day's Night"
George and Pattie's wedding day
George had an affair with Maureen Cox, the wife of Ringo Starr. John Lennon blasted George, calling the affair 'incestuous'.
Pattie and Eric Clapton's wedding
Eric Clapton's 4 year old son, Conor, with Lory del Santo, died falling out of a 53rd floor apartment window in New York in 1992. George also had an affair with Lory. During Conor's funeral, Pattie and George were both at Eric's side consoling him. Eric wrote "Tears in Heaven" for Conor.
There are rumors that George had an affair with Madonna.
He produced her movie, Shanghai Surprise.
In 1978, George married Olivia Arias
,
a secretary at A&M records in Hollywood. They have a son, Dhani who is now 34. Pattie Boyd was saddened to hear of their marriage. She considered George to be the love of her life and regretted divorcing him. They remained good friends til he died.
Paul, Ringo, Yoko and Olivia were watching Dhani perform onstage
and someone remarked "we all got old except for George."
George developed lung cancer in 1997 which he attributed to smoking heavily from the 60s to the 80s.
In late 1999, George was attacked and stabbed in his Friars Park Mansion by Michael Abram, a schizophrenic who believed he was possessed by Harrison, and was on a mission from God to kill him. The struggle ensued for 15 minutes with Abram attacking both George and Olivia. Olivia struck Abram with a fireplace poker and lamp. He was acquitted of attempted murder by reason of insanity.
In November 2001 while receiving radiotheraphy in New York, Dr. Gilbert Lederman, his oncologist, came to visit George. Lederman had his son play the guitar and asked George to sign it. George replied that he didn't think he knew how to write his name anymore but Lederman insisted and offered to guide him. Olivia and Dhani sued Lederman and the case was settled out of court under the condition that the guitar be disposed of.
Ringo Starr visited George during the final days before his death. Ringo said that he had to fly to Boston because his daughter, Lee was going to have surgery for a brain tumor. George asked "Do you want me to come with you?" even while he was in his death bed. This brought tears to Ringo's eyes as he was relating the story in Martin Scorcese's film Living In The Material World.
George died on November 29, 2001, reportedly at the house of Paul McCartney which he was leasing in Southern California. He was 58 years old.
George was an avid gardner. He most likely planted these tulips.
Dhani and Olivia at George's Dhani and Olivia at the "Love"
ceremony of his Hollywood Star performance in Las Vegas
I really want to see you Lord but it won't take long my Lord, Alleluia! My Sweet Lord!
Happy Birthday George!